Our commitment to quality, innovation, safety and zero harm has made NA Group a market leader.
We believe in transparent working relationships, have a depth of knowledge across the business and a track record for successfully delivering complex, time critical civil and road maintenance and restoration projects across NSW.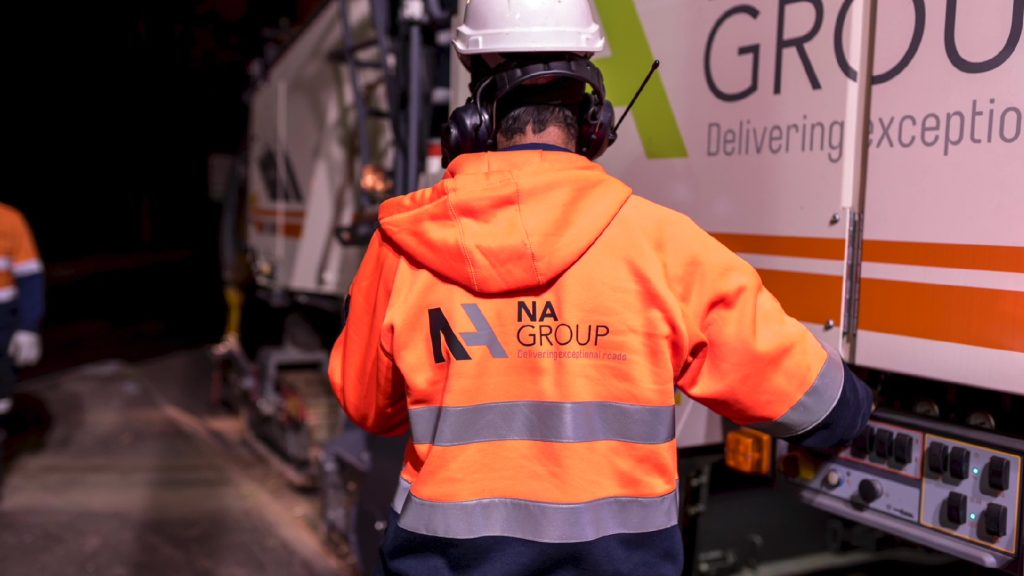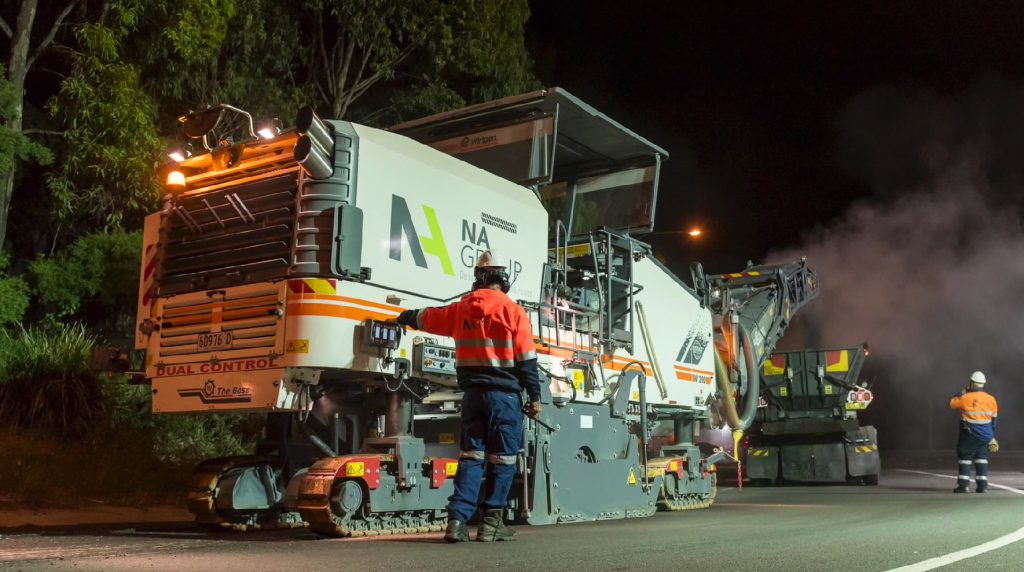 Our feedback from out clients is important to us, please review us on Google.
Our Clients
We're the 'contractor of choice' for:
RMS (Roads and Maritime Services)
Ventia Boral Amey JV
(formerly Leighton Boral Amey JV)
Downer Infrastructure
DM Roads (formerly DownerMouchel)
Boral Asphalt
Ausgrid
WestConnex
Ventia Pty Ltd
Acciona Infrastructure
Lendlease
Interlink Roads M5 South
Westlink M7
Local Government Procurement
Various Councils and Local Government
Client Testimonials
John Sassine
Senior Project Engineer, Ventia Pty Ltd
"NA Group have been engaged in completing concrete slab replacement works on the M5, pothole repairs on the M5 and M2, and continue to provide their services to us throughout the motorway network. Their staff are skilled and experienced, and they use the latest innovative technology to complete the job safely, efficiently and effectively which is imperative within a busy motorway environment. Their skills in extensive project management ensures that time critical projects are completed on time, whilst their experienced team and crew deliver quality work. This also includes a strategic contingency plan to ensure that any unexpected issues that may arise are resolved quickly, and deadline completion times are met. NA Group provides a reliable, well planned, and professional service from higher management to project managers and work crew."
Andrew Tofallis
Site Manager, Western Sydney Airport
"NA Group have been providing ongoing maintenance services for Western Sydney Airport. The diverse services that they have been performing include asphalt, pothole repair, graffiti removal, litter and debris collection, lawn mowing, signage, and other general road maintenance services. The dedicated team at NA Group are professional, experienced and every service is completed to the highest quality. Their attention to detail and response time in completing jobs ensures that Western Sydney Airport has safe and well-maintained roads, which is critical in an airport environment."
Yianni Stavreas
Construction Manager, BMD Constructions Pty Ltd
"NA Group have contributed to road upgrade works at Princes Highway and The Boulevarde, Kirrawee which has been designed to ease congestion and improve journey reliability on Sydney's key southern corridors. The team at NA Group completed road widening works including excavation and removal of the existing footpath, and supply and lay of the new footpath in the specified position. They also completed concrete slab replacements utilising BluCem fast setting concrete throughout this major intersection for minimal road closure times. NA Group delivered a comprehensive project plan that integrated every phase of the job. They also included a strategic contingency plan with back up machinery and crew to deal with any unexpected setbacks that could occur on a busy main road location. With this careful planning and impressive technology through their machinery and their qualified staff, the project was completed safely, successfully and within our strict schedule."
Jim Appleby
National GM Road Surfacing, Infrastructure Services, Downer Australia
"NA Group Pty Ltd is currently engaged by Downer Infrastructure delivering road and civil works, mainly involved concrete road construction and maintenance to Downer Infrastructure's Sydney businesses. Nick Argyropoulos, Director of NA Group, and his team are professional and diligent in delivering road and civil works to Downer Infrastructure. Nick is heavily involved throughout the project lifecycle from the tender phase, through planning, programming, delivery and completion of the project with constant contact and feedback. He ensures that provision of information and feedback is maintained as a core ingredient to project delivery.
NA Group have initiated and implemented high levels of safety within the culture of the company and staff. Their work in road construction and maintenance focuses on the safety of employees and road users during the construction phase of all projects completed with Downer Infrastructure. This focus on safety has led to NA Group receiving safety awards, most recently receiving the Downer contractor safety award in late 2011. NA Group has put in place procedures that ensure all aspects of road and civil works are delivered with minimum confusion and fuss. These include appropriate environmental, drug and alcohol, equal opportunity, and relevant work health and safety policies that align with Downer Infrastructure's policies. NA Group is an excellent contributor to Downer Infrastructure's near miss reporting program, part of our Zero Harm behavioral change journey. Regular Zero Harm audits of subcontractors form a part of Downer Infrastructure's Quality Management process. We carry-out audits to monitor compliance, with relevant work health and safety laws, regulations, industry codes of practice, licenses and project requirements. NA Group always perform well and willingly providing access to pre-start documentation, plant maintenance records and other information and licenses without question. NA Group is the highest ranked on our league table of supply chain partners. This willingness to comply with Downer Infrastructure's quality management process has led to a strong and healthy relationship between NA Group and Downer Infrastructure. I can confidently recommend NA Group Pty Ltd for appropriate projects and consider them to be solid and reliable specialists in the field of road and civil construction and maintenance. Please feel free to contact Downer Infrastructure to provide any further assistance."
Aedan Hewitt
Operations & Maintenance Manager M5 East, Ventia Pty Ltd
"NA Group provides value for money. They pride themselves on the competency, commitment and subsequently the efficiency of their workforce, ensuring that they always provide crews with the appropriate systems and skills to deliver projects on time, within budget and safely. I can confidently recommend NA Group Pty Ltd to any prospective Client. They really are focused on and deliver with respect to safety, innovation, efficiency, quality."
Amit Patel
Senior Project Manager, Transmission Cable Alliance
"NA Group consistently delivers as promised. They are a Contractor that has experience, trust, honesty, integrity, and bring a full commitment to TRACA (Transmission Cable Alliance). I am very impressed with the professionalism and analytical abilities of their staff. They always promote a Team effort with all members of the project including sub-contractors, engineers, and consultants. Their effort as well as their attention to detail, quality, schedule and budget has led to very successful projects. I would recommend them to anyone."
Kevin Badger
Program Manager, Ventia Boral Amey Joint Venture
"Ventia Boral Amey Joint Venture (VBA JV) manages the Sydney South Stewardship Maintenance Contract, awarded by NSW Roads and Maritime Services to deliver road asset management services over seven years, valued at $100 million per annum. VBA JV Sydney commenced service delivery on 31 March 2014. In addition, VBA JV has constructed over $75 million in road improvement works on behalf on Roads and Maritime to date. Since the inception of the contract, NA Group has been a key service provider for VBA JV. Their areas of expertise have included road construction and civil works but they are more than willing to assist wherever possible. When required for Incident Response, they are dependable, competent and professional. They are proactive with supplying solutions, and exemplify the teamwork value of VBA JV with valuable contributions to our WHS&E systems. NA Group's solid commitment to safety, efficiency, quality and environment has been evident in the incident free completion of many key projects. They have an excellent safety system, giving confidence in their ability to not only complete works on time and to specification, but most importantly, to ensure that everyone goes home safely. This requirement is non-negotiable by VBA JV and NA Group has not disappointed. Their professional, can-do attitude has been a vital element in maintaining the high standards demanded by VBA JV and our client, NSW Roads and Maritime Services. NA Group Director Nick Argyropoulos leads from the front with a personal oversight of and involvement in all work undertaken for the joint venture. This accountability is reflected in the culture and work ethic of all NA Group staff. I regard NA Group more as a partner than a subcontractor in their attitude and approach to innovation. I unreservedly recommend them to any business seeking the highest standards in roads and civil works contractors."
Stuart Robertson
Project Manager, BREFNI
"NA Group assisted Brefni with the supply of site batched concrete using their Mobile Batching Unit (MBU) at a remote location on the Central Coast. Logistical restrictions accessing the site at Wondabyne meant that there were limited options for traditionally batched concrete, resulting in the MBU having to be mobilised to the site via barge along the Hawksbury River. NA Group staff were extremely attentive and resourceful when planning the works with Brefni to ensure that suitable material and provisions were in place ahead of the tightly-programmed rail possession works. Further flexibility and professionalism were demonstrated when on site, with the ability of the MBU to change mix designs and/or slumps to suit the conditions of the build. This was a well-managed and risk assessed solution which successfully achieved the desired outcome under some unique and logistically challenging circumstances."
John Gillan
Project Manager, Ward Civil
"NA Group recently completed expedient pavement construction on a critical road intersection. From the early involvement in the planning and construction staging with their management right through to the delivery of the construction works I cannot fault them. The works required three mobilisations and their crew to completed the pavement works in a short time frame. I was impressed watching the site team working with limited conversation or direction required as it was clear to see the individuals all knew their own tasks combining to work as a team."
David Adams
Civil Coordinator, Wollongong City Council
"NA Group delivered a quality program at all levels. It was refreshing to once again find a company of such quality and proffesionalism that we entrusted the spray seal program with complete confidence."
Will Davis
Senior Project Engineer, Fulton Hogan Construction Pty Ltd
"From Senior Managment to the work crews onsite, all NA Group personnel we dealt with were extremely professional and had "can do" attitudes. This culture is deeply entrenched in their day to day business, which makes working with them extremely easy and mutually beneficial. I had the pleasure of working with NA Group on the B Line Project where they consistently completed slab replacement and miscellaneous concrete work on a nightly basis over a one year period. No task or change was too difficult, with NA Group going above and beyond on multiple occasions to ensure all our needs were met. The expertise and knowledge and NA Group brought to our project was invaluable. Being an industry leader in RMS slab replacement work, NA Group were able ot provide great insight and advice with regards to resolving challenging situations whilst providing a high level of comfort."