We have developed a system where our team performs to maximum productivity within the project circumstances, allowing us to drive efficiencies to our clients. We have demonstrated our ability to consistently provide products and services that exceed our customer and regulatory requirements. Our paperless daily reporting procedures for daily pre-start meetings and traffic control reports ensures our projects run seamlessly.
Innovation & Technology Driving Efficiencies
We use the latest innovations in equipment to ensure that NA Group delivers your project using our own equipment that is managed and completed by experienced and skilled NA Group staff.
Spray Seal Innovation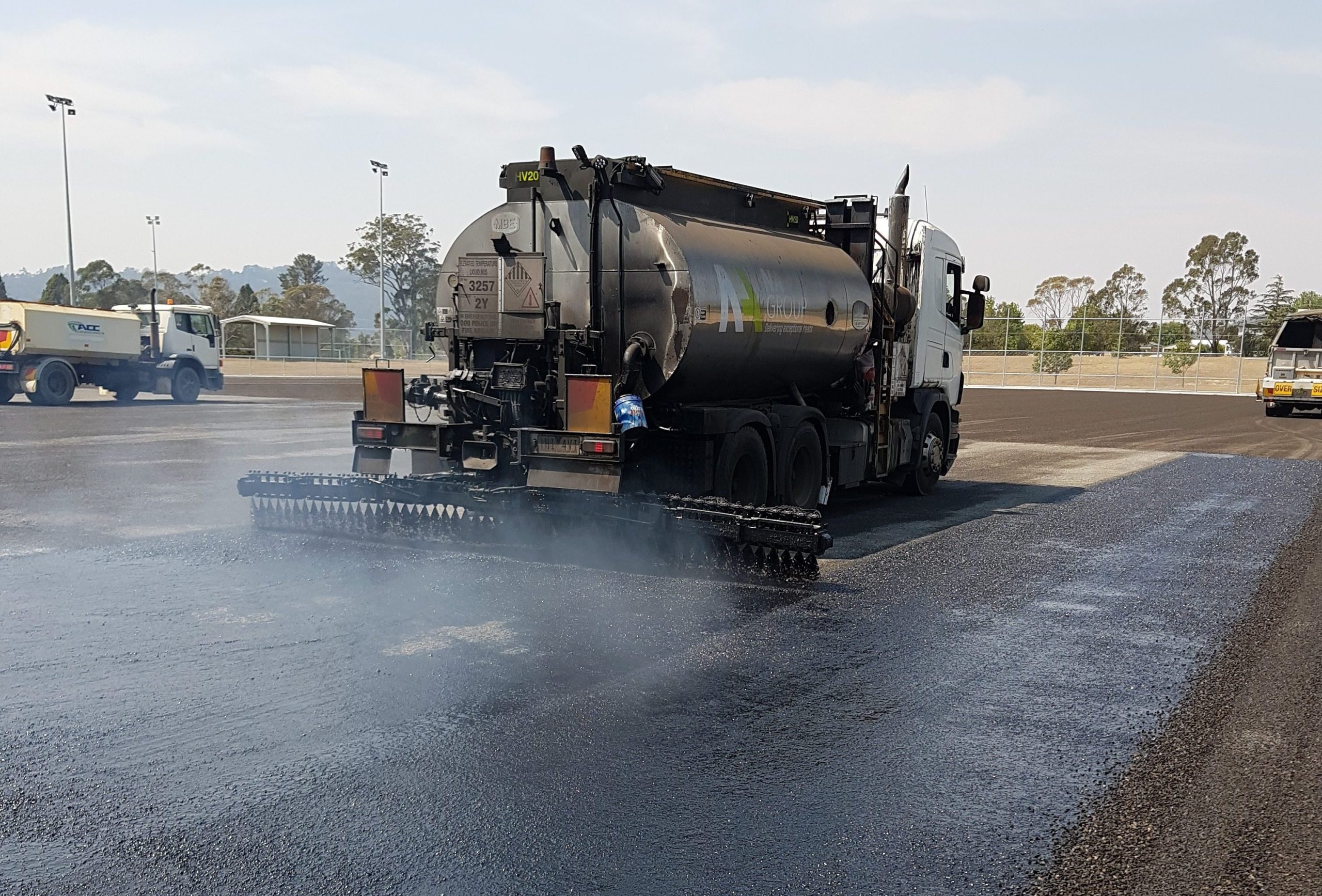 Bitumen Sprayers
The NA Group bitumen sprayer is an impressive road construction technology used during our spray seal services. The bitumen sprayer delivers a computer controlled, even film of our high quality hot bituminous binder at a prescribed spray rate on to a road surface. The bituminous binder acts as a waterproofing layer and prevents water entering the underlying road structure. Immediately after the bituminous binder is applied, the road surface is ready to be covered with crushed aggregate and to be pressed.
Aggregate Trucks & Rollers
Following the bituminous binder application, the NA Group truck will apply a single layer of crushed aggregate. Then, the NA Group roller presses the surface of the road to ensure that the aggregate particles are properly embedded into the fresh binder, interlocking the surface into a renewed, safe, and smooth roadway that is ready to drive on.
Asphalt & Milling Innovation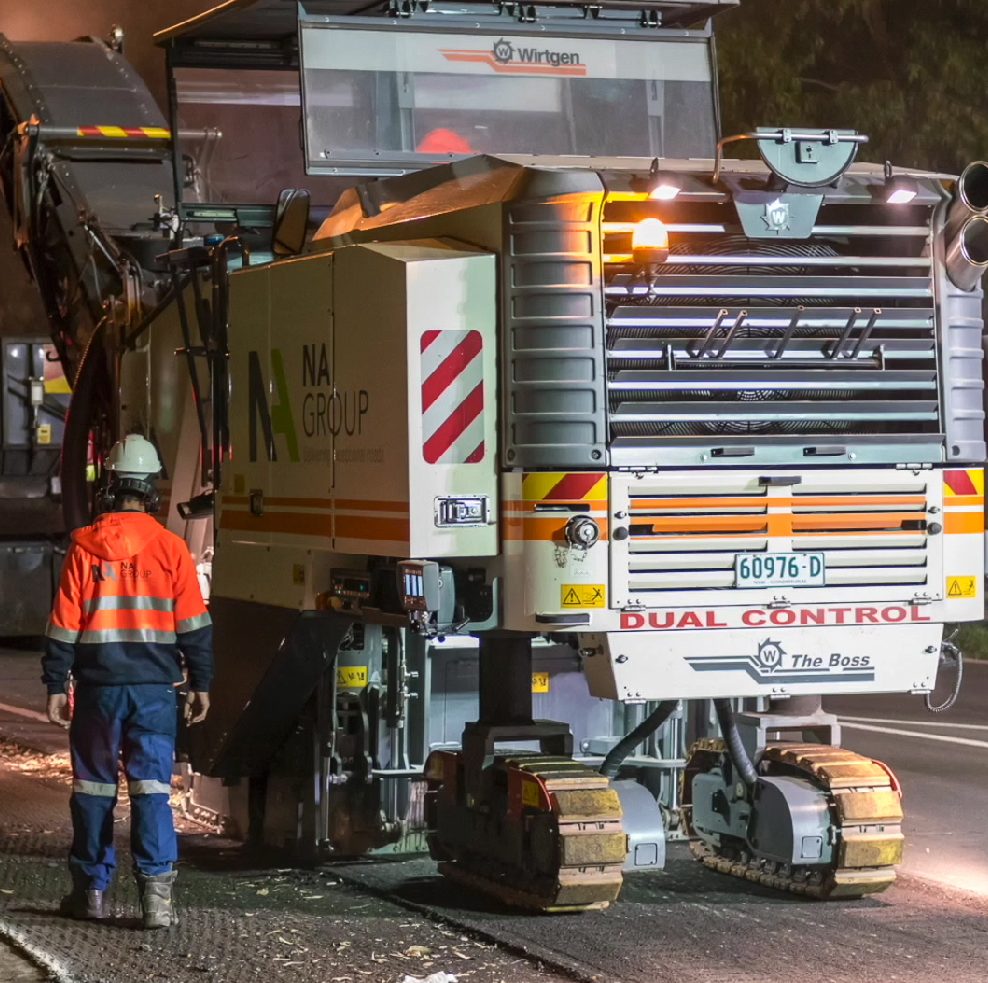 Profiler Machine
The NA Group profiler machine is utilised during our milling services. This impressive machine removes existing asphalt and concrete surfaces quickly and efficiently, while creating a level foundation with the specified width and depth that is required for paving the new surface layers at a uniform thickness.

The profiler uses a large rotating cutting drum to grind into and remove the existing pavement. The cutting drum has removable carbide teeth that spiral in from the edges to push the loosened material to the centre that is taken away by a conveyor belt into a waiting truck. When the paver has completed its work, a level foundation is ready for the new pavement surface to be laid. NA Group provide milling services to some of Sydney's busiest roads and major motorways.
Paver
The NA Group paver is utilised during our asphalt services. This piece of road construction technology is used to lay asphalt on roads, bridges, parking lots and other locations. The asphalt mix is loaded into the machine which then spreads out and lays the asphalt. The asphalt is leveled and compacted by a part of the machine called the screed. Then, the surface is compacted once more by a roller, creating a smooth, level, durable and safe roadway surface. Our paving service offering includes the placement of various types of asphalt mixes including hot mix, warm mix, open grade, footpath asphalts and geogrids on Sydney's busiest roads and motorways.
Concrete Innovation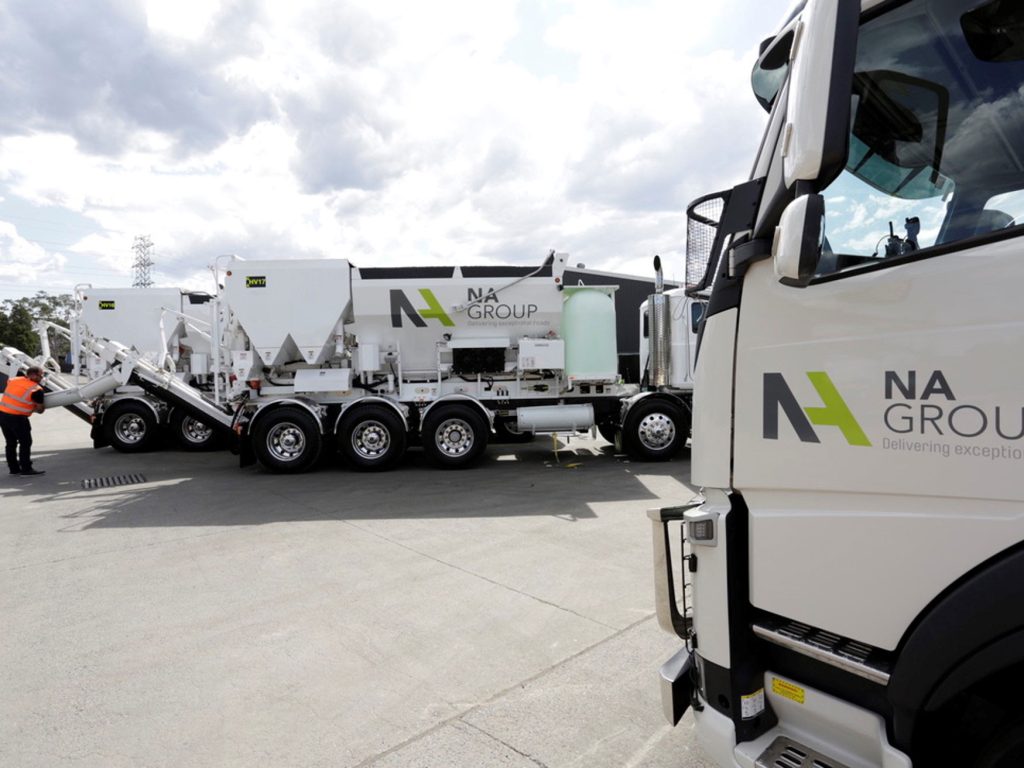 NA Group Mobile Batching Units
The NA Group mobile batching units utilise the latest technology featuring fully computerised mixer controls and deductive weigh batching for consistent, accurate and reliable production. The versatility of our mobile batching units provides the capabilities of delivering concrete to metropolitan and remote locations. Each unit can store up to 50 mix designs and supply of up to 11m3 of batching per unit without the need for reloading, allowing continuous concrete pouring. On-site concrete mixing allows for a reduction in waste and an increase in efficiency as the crew is on-site and ready to batch concrete.

Our investment in our mobile batching units, machinery and technology ensures that our projects run seamlessly and deliver outstanding quality. Concrete production is also consistent in quality and delivery, driving efficiencies and meeting critical project deadlines.